Refurbished: WP Expanse 30.72TB eNAND 512e SAS Gen3 2.5-inch SSD | ECC PLP 3DWPD | Enterprise Data Center SAN Solid State Drive - WECS5S333072S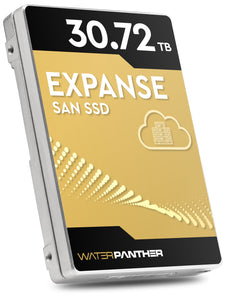 The Water Panther Expanse SAN Drive series is optimized for data integrity in multi-system and multi-tiered environments
Advanced onboard ECC for end-to-end data protection
Ideal for mission-critical applications requiring 24/7 uptime
Power-loss data protection technology (PLP) safeguards data from DRAM cache to non-volatile NAND flash during unexpected shutdown
SAS 12Gbit/s, legacy 512-byte support, 30.72TB 3DWPD model
Backed by a 2-year replacement warranty
Expanse SAN SSDs
Upgrade your storage-area-network storage system with 30.72TB SAS SSDs. Water Panther Expanse drives deliver highly-available and validated expansive storage solutions and is qualified for storage-area-network (SAN) storage servers, virtualized SAN, and hybrid SAN clusters. SAN systems require highly available storage hardware in terms of redundancy, performance, and data integrity. The Expanse series mitigates hardware bottlenecks and lowers software overhead as a result through end-to-end data protection from using advanced ECC algorithms. Source a drive that's validated to work flawlessly with mainstream storage servers and performant within multi-tiered and multi-system environments such as distributed multi-edge and multi-datacenter cloud configurations. Choose from dual-port SAS SSD/HDD options and dual-path capable NVMe SSD options along with cost-effective SATA options. Compatible host bus adapters (HBA) are required for dual-pathing support, SATA HDD options require compatible interposers or backplanes to support dual-pathing. The WP Expanse lineup is compatible with all mainstream enterprise operating systems and applications. The industry drives up data needs, Water Panther Expanse is here to deliver quality solutions.
Validated
The WP Expanse lineup is qualified for storage-area-network (SAN), virtualized SAN, and hybrid SAN clusters delivering object stores and traditional iSCSI block storage.
Compatibility
Works with all mainstream enterprise operating systems and applications. Compatible with software-defined storage (SDS) such as ZFS and Ceph. Dual pathing requires compatible host bus adapters, SATA options require interposers or serial-attached SCSI (SAS) backplanes for redundant pathing capability.
Expansive
Expand multi-system data storage in multi-tier scenarios with ease.
Integrity
Advanced error-correcting code (ECC) ensures less data corruption and lower resource overhead.
Resilient
Ready for mission-critical enterprise applications requiring 24/7 uptime and performance.
Environments and Applications
Artificial intelligence and machine learning
SAN clusters utilizing iSCSI and FC block storage protocols
Enterprise resource planning and business intelligence systems
Centralized video surveillance
Serialized data event streams
Hybrid SAN clusters utilizing object-based storage
Hyper-converged virtualized servers
Online analytical processing (OLAP) relational databases
Online transaction processing (OLTP) real-time transactional databases
Digital content creation
Active backup and restore data warehousing
Caching and tiering
Redundant high-availability storage arrays
Dual I/O module disk shelf JBOD enclosures
Disclaimer: WP Expanse consists of products from major manufacturers and OEMs, Water Panther offers compatible products, technical support, warranty support and coverage, and the supply chain. Product images are for demonstration and marketing purposes only, images do not represent any individual item.
Note: Some WP Expanse drives support legacy 512-byte sector format sizes. 4K native (4Kn) options cannot be mixed with 512e arrays and 512e drives cannot mix in 4Kn arrays. 4Kn options require UEFI for use as boot disks. Certain drives have the SAS or U.2 NVMe interface, the SAS and U.2 NVMe interface is for systems with compatible disk controllers and backplanes and will not work in systems that only support SATA (desktop PC, consumer NAS, etc. ). Some WP Expanse drives support legacy power supplies and will not have power-disable functionality, some will have host-managed power-disable and may not boot with power supplies that does not support SATA Gen3.3 revision. SAS HDD options have power-disable feature natively.
---
Questions & Answers
Have a Question?
Be the first to ask a question about this.
Ask a Question
---
| | |
| --- | --- |
| Device Type | Internal Solid State Drive |
| Storage Capacity | 30.72TB |
| Interface | SAS-3.0 12Gbit/s |
| Form Factor | 2.5 Inches |
| Sector Format Type | 512e |
| Encryption | Standard overwrite secure erase |
| Datasheet (PDF) | Open spec sheet |
---
---